About the Shoeing Lab
We are highly trained professionals that can offer help and support to you as a farrier. We are continuously developing new horse shoes and how they can help with equine performance. This consists of correcting and addressing lameness along with helping improve horses function and their natural ability. We offer a wide range of new products and shoes to benefit the equine.

We are based in Grimley, Worcestershire with a very modern and up to date shop, where you can view and see all of our products. We have a friendly and knowledgeable group of staff based at the shop, who will always help and have time to talk about the products if you would like to know more. 
 

Meet the team 
Kelvin Lymer 
Kelvin has been a farrier for nearly 40 years. In 1992 he joined team GBR as Endurance Equestrian Team Farrier and has supported the team at multiple World Equestrian Games , European Championships, World Endurance Championships and World Cups, plus he was one of only 3 official farriers at the Beijing Olympic Games in 2008. The GBR Teams that he has supported have won Bronze, Silver and Gold medals. His company Sandpitt Forge, is a thriving business and his clients not only include Endurance horses but horses in all disciplines including Dressage, Eventing, Show Jumping and Driving. He has trained over twenty apprentices and is involved with treating lame horses at a number of veterinary practices. Inevitably this has led him into designing sports horseshoes, trying new and different products and different theories which are now been used in a number of scientific trials.
Dr Mark N Caldwell PhD; FWCF
Mark has been shoeing since 1977 having started his career in the Household Cavalry. Quickly realizing his passion for horses feet Mark continuously strived to improve his knowledge and skills by taking higher examinations and competing at both national and international level. By 1987 Mark had gained the Worshipful Company of Farriers Fellowship award with his ground breaking research dissertation on Pre-Navicular Syndrome. During the same year Mark was honoured to represent the English National Farriery Team for the first time, later going on to manage the team from 2000 to 2003.
​Mark was introduced into the International Farriery Hall of Fame in 2015. A highly skilled, motivated farrier educator with over 30 years experience with therapeutic and remedial farriery and a proven ability to enhance soundness and performance in high level competition horses.
Recently retiring from full time teaching at the Myerscough School of Farriery Science, Mark has acquired an excellent track record of achieving learner success at both basic and advanced farriery qualifications and was responsible for developing the worlds only academically recognized degree honours program in farriery. He is well known for innovative solutions for foot related lameness's and high standards of workmanship and training. Mark is also a frequent speaker and clinician at farriery and veterinary conferences around the globe. 

Currently consulting and providing educational programs and product design for The Shoeing Lab, Mark completed his PhD at the University of Liverpool. Mark has an international reputation and is recognized for both his practical and oratory ability. 

Mark has studied a broad spectrum of shoeing and barefoot trimming styles, composite material applications, and other alternative support options with a number of internationally recognised experts in the field including the late Burney Chapman, Dr Robert Eustace, Professor Chris Pollitt,  Alan Calvert AFCL and Anne Claxton AWCF amongst others. He regularly attends major international veterinary and farriery related conferences and other seminars annually.
Annabelle Trigg 
Annabelle looks after the day to day operational activities of The Shoeing Lab ensuring everything is done to a high standard and customers are happy. Annabelle has been working for step father Kelvin for the past year after finishing her degree in Business and Human Resource Management at The University of the West of England (UWE) Bristol where she achieved a 2:1. Annabelle also has a passion for her dressage horses and competes her top horse successfully at Intermediare 1 and has a young horse coming through. 
Harvey Lymer 
Harvey qualified as a farrier in 2014 and enjoys the remedial side of shoeing and is gaining a huge knowledge base working along side his farther Kelvin Lymer and Mark Caldwell. As well as studying, Harvey also helps out around the shop and aids apprentices in the forge. Harvey was obviously introduced to Endurance at a young age but is an accomplished farrier in his own right.  In 2013 he won the European Championship for apprentice farriers held in Denmark.  He has been working with the EGB International Squad for some years, including travelling to France with the Development Squad in 2014.
Cathryn Gardner 
Cathryn has worked for Sandpitt forge for 15 years, Cathryn completed her apprenticeship with Kelvin and never left. She is a great asset to our team and is always here to lend a helping hand. Cathryn also has a passion of showing horses and has done extremely well in the show ring.
William Badlan 
Will joined the team in 2016, before starting with us he was a point to point jockey and always has time for a chat about the latest racing news. Since starting his apprenticeship Will has gained knowledge for the industry and has learnt a vast amount. Will loves to compete in shoe making competitions and I'm sure you will see him out and about this year.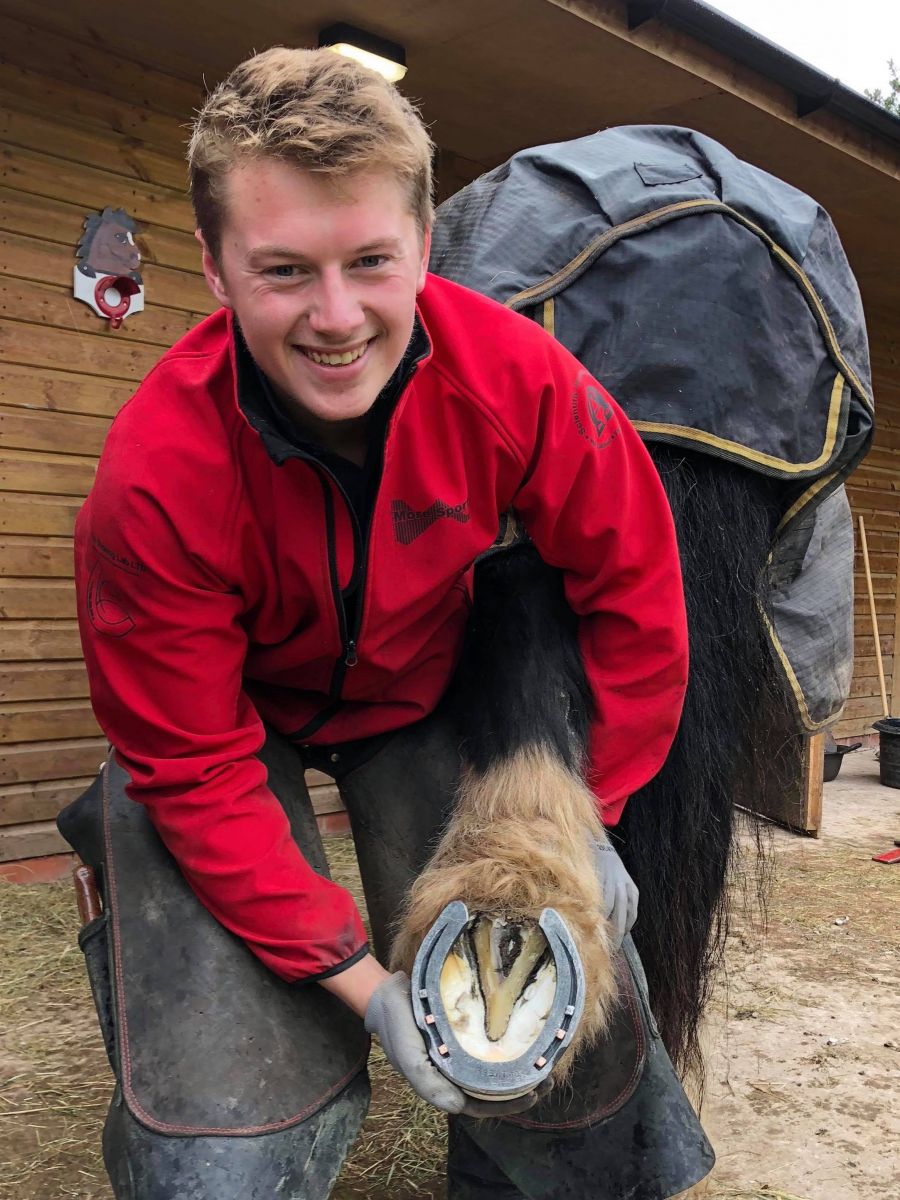 Toby Jones 
Toby is a fourth year apprentice with a keen eye for detail and a passion for shoeing horses. He has aided in the day-to-day running of The Shoeing Lab since the opening.