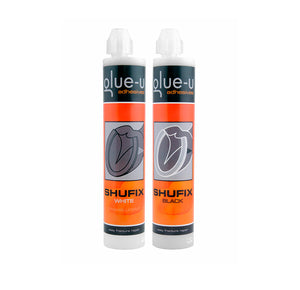 SHUFIX - FAST SET
Very suitable for making extensions on foals' hoofs and custom plastic shoes. Also suitable for retouching or rebuilding heels, making medial/lateral corrections and for smaller hoof repairs. The hoof should be clean and especially dry.
250 ml cartridges fitting in standard caulking guns.
Curing time between 30 – 60 seconds, workable after about 5 minutes.
Temperature and humidity can influence the performance of this product.