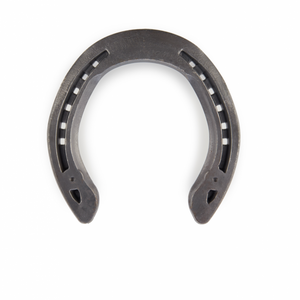 Alpha Ultra Hind (Side Clipped)

0 = 4 ¾" 121mm 21 x 8.75
1 = 5"       127mm 22 x 9
2 = 5 ¼" 133mm 23 x 9.25
3 = 5 ½" 140mm 24 x 9.75
4 = 5 ¾" 146mm 25 x 10
This is the new shoe from Alpha horseshoes which is called the Ultra Hind.
This concave style horseshoe  which has a rolled toe allowing the unrollment of the limb from the ground, using less energy and reducing stress.
The Ultra Hind can be used on lots of different surfaces including the road, cross country and sands schools with the broader heels of the shoe helping to stop them sinking on softer surfaces.
Other features are a seated-out foot surface to reduce sole pressure, a good range of nail holes, 6 on each side, which gives you plenty of options for nail placement, large side clips to help retain the shoe on the hoof, giving you the option to use pads without leaving the clips low on the hoof wall.
Finally, it has stud islands to make the placement of studs, tungsten pins and drive in plugs easier.