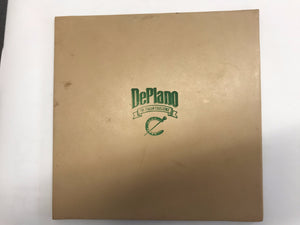 DePlano was started over 30 years ago based on the necessity for improving both the welfare and performance of horses. Study after study has led to the development of specific tools made out of the best materials in order to improve and preserve horse's limbs and body structure over time.

By using the age-old Italian tradition of tanning coupled with only the highest quality of leather, DePlano has created the best leather pads on the market. The leather is treated according to an ancient traditional method using only plant based extracts. No synthetic fats are used in the process. After using the tannin's extracted from tree bark, the leather is extricated in air driers. These treatments give the pads exclusive characteristics allowing the hoof to breathe and provide maximum comfort.
Available soon: Sizes 4, 5, and 6. Light, Regular, Heavy, XX Heavy, and XX Heavy Wedge

If you haven't tried them yet contact us and we will gladly send you a free sample.

Once you try them we are convinced that you will see the difference that quality products make.