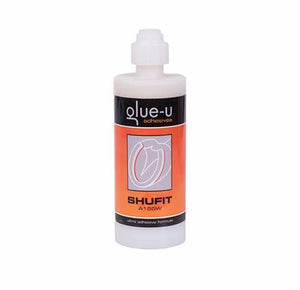 SHUFIT
GLUE ON SHOE
Glue for bonding horseshoes and hoofwall repairs.
Available in 150 ml black and white.
Fits in standard caulking gun using an adapter or just use the Glue-U dispenser for 150 ml cartridges.
Bonds steel, aluminium and even urethane shoes.
Suitable for repairing large cracks and creating extensions.
Initial set time: 90-120 sec (open time). Weight bearing in 4-5 minutes (even in cold conditions).
Temperature and humidity might have effect on the performance of this product.
Heating up Shufit before use speeds up setting time significantly.